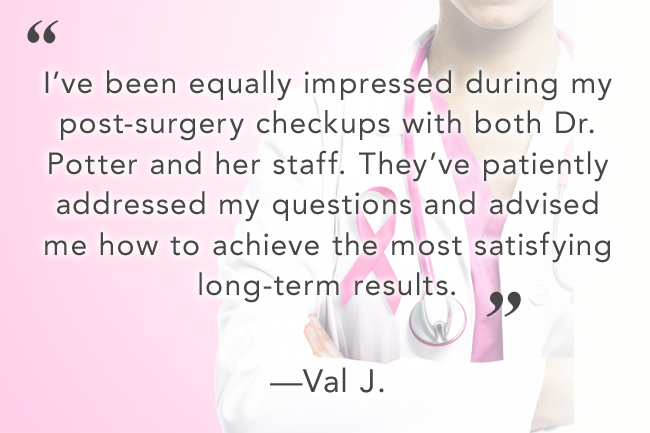 Dr. Potter went above and beyond to make sure I was well prepared for my reconstruction. She fitted me in her office for my post-surgery compression garment, brought it with her to the hospital, and when I awoke from my procedure, I even found myself wearing a super soft healincomfort recovery shirt.

Her preparedness and attention to detail assured me that I was in good hands, and that kind of service meant a lot to me after experiencing more than a few post-cancer "bumps in the road" over the last two years.

In the past, I've felt a little silly with all of my breast reconstruction after care questions – especially in between scheduled appointments – but not once have I felt like my concerns aren't important to Dr. Potter or that I'm bothering her. I've been equally impressed during my post-surgery checkups with both Dr. Potter and her staff. Without rushing, they've patiently addressed all of my questions and have advised me how to achieve the most satisfying long-term results.

My positive experience has only intensified my eagerness to begin the next phase of my reconstruction, and it's definitely confirmed that I made the right choice when I added Dr. Potter to my cancer care team."
—Val J.