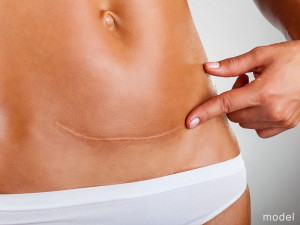 Scars are the body's natural method of healing wounds from injuries and surgery. Unfortunately the healing process sometimes results in scars that are obvious, disfiguring, and/or unsightly. Scars may be raised or recessed, different in color or texture from the surrounding healthy tissue or particularly noticeable due to their size, shape, or location.
A scar's appearance may change significantly during the first six to twelve months until it reaches maturity and stabilizes. During this time, when the scar is evolving, it is important to consider treatment with silicone sheeting, massage and avoidance of direct sunlight.
Dr. Elisabeth Potter will recommend strategies to improve the final result of a healing scar. If a scar is still bothersome after it stabilizes, scar revision surgery can minimize the scar so it more evenly matches your surrounding skin tone and texture.
Scar Revision Process
Scar revision surgery is often a minor procedure that can be done in the office under local anesthesia. Once the scar is removed, advanced wound closure techniques are used to heal it in a more predictable pattern, therefore making it less noticeable.
Dr. Potter also performs Embrace Scar Therapy®. It's important to note that although scar revision can result in an improved aesthetic appearance, scars can never be completely removed. In addition, keloids, a special type of scar growing outside the borders of the wound, are more difficult to treat because they are likely to recur, but they may respond to cortisone injections, radiation therapy or surgery.