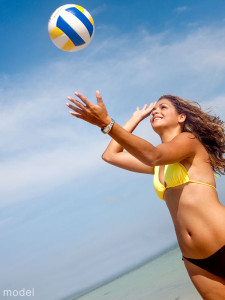 Due to exposure from the sun's ultraviolet rays, the face, head and neck are the most common locations for skin cancer occurrence. Following removal, reconstructive surgery may be necessary to restore the normal appearance and function of the cheeks, lips, nose or eyes.
Removal and Reconstruction
Skin cancer is diagnosed by removing all or part of the growth and having a pathologist examine it under a microscope. Once a diagnosis is made, the entire cancer is removed from the skin. Depending upon the type of skin cancer and how advanced it is, surgery on the lymph nodes may be indicated as well.
In some cases, a dermatologist will perform Mohs surgery to cut away the cancer one layer at a time until it has been completely removed.
When a Mohs surgeon excises a lesion on a patient's face – especially in a cosmetically sensitive area like the nose, eyelids, lips or cheeks – and the defect is relatively large and cannot be closed simply in a line, the surgeon may refer the patient to Dr. Elisabeth Potter for reconstructive surgery to achieve the most natural aesthetic result.
Skin Cancer Prevention
The growth of many skin cancers can be prevented with protection from the sun's ultraviolet rays. The American Academy of Dermatology recommends wearing sunscreen during time spent outside, even during cloudy conditions since 80% of the sun's rays penetrate clouds and damage skin.