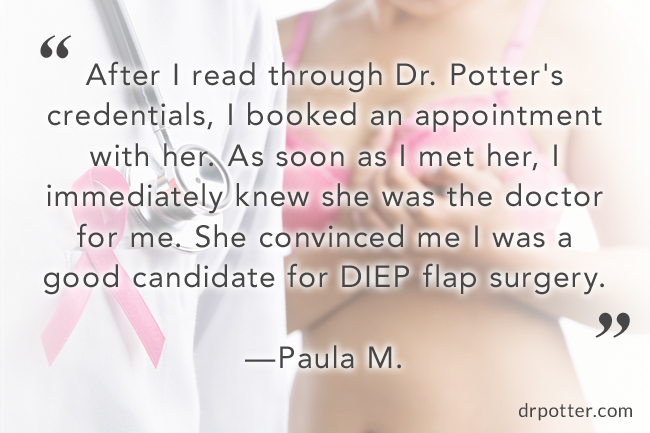 I was diagnosed with DCIS, an early form of cancer, in the fall of 2013. My physician in my hometown suggested a mastectomy to remove the entire affected area. I really didn't know what my options were, but I knew I wanted reconstructive surgery. My nurse navigator suggested I research DIEP Flap reconstruction.

While researching, I found the names of two surgeons in Amarillo and booked an appointment with one of them – but I soon found out the doctor I'd chosen to work with did not accept my health insurance. I felt like I'd reached a dead end.

Then I found Dr. Elisabeth Potter in the directory of surgeons provided by my health insurance. After I read through her credentials, I booked an appointment with her. As soon as I met her, I immediately knew she was the doctor for me, and she convinced me I was a good candidate for DIEP flap.

Since we were traveling from Amarillo to Austin, she recommended the Seton League House as a very convenient and affordable option of accommodation for my husband while I stayed in the hospital – it was within walking distance!

The surgery was lengthy, but I recovered very quickly. Dr. Potter gave me a comfortable post-surgery shirt with soft snaps and POCKETS that were such a necessity! The breast reconstruction recovery process has been way easier and quicker than I would have ever thought, and I can't believe it's been four months. I feel great…I'm back to work and working out with the extra benefit of a flat tummy! Dr. Potter was the answer to my prayer."
— Paula M.